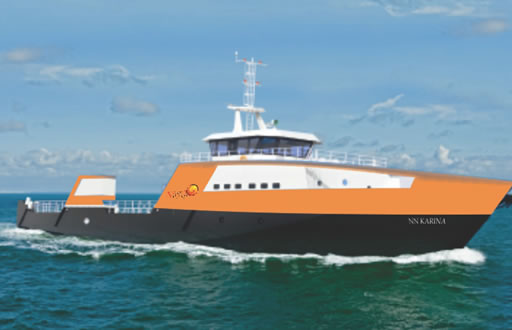 NN KARINA SPECS
Suitable for

Crew transport
Transport of deck cargo
Cargo / Tankspaceunder deck
Standby on DP
Firefighting (optional)

Main features

Hybrid propulsion / Green technology
Comfortable accommodation
Low fuel consumption
Strong seakeeping performance
Two cargo decks
Two contra rotating propellers give high efficiency

MAIN PARTICULARS
Length, overall:
55.20 m
Breadth, moulded
9.00 m
Depth to maindeck
4.50 m
Designdraft
3.20 m
Max. draft
3.50 m
Deadweight
210 ton
Speed(D-mode)
22knots
Speed(E-mode)
12knots
Classification
100 A5 RSA (200) HSDECREEWBOAT'FastCrew Supply Vessel' ( ) MC DP1
Flag
Mexican Flag

DYNAMIC POSITIONING

Class1 (One) Dynamic Positioning System:NAVISDP system with combined console for forward and aft navigation and control.
Reference system

2 x DGPS Receivers
2 x Gyro Compass
2 x Motion reference units
2 x Wind sensors

COMMUNICATION
All according A3 regulations (worldwide)
2 x Inmarsat satcom C1 x Radiotelephone installation, MF/HFDSC2 x VHF radio – telephone transceiver DSC, full duplex1 x SART Radar Transponders1 x Epirb, hydrostatic release

2 x Porto phones GMDSS

Sistema de referencia
1 x Sistema Hidroacústico2 x Receptor DGPS1 x Sistema Laser Scan2 x Unidades de Referencia de Movimiento (Motion Reference

PROPULSION MACHINERY
Propulsion system
Hybrid (Diesel Electric / Diesel Direct ) With automatic system
Diesel engines / Generatir sets
2 x Caterpillar 3516 each 2350ekW@1800rpm
Electro propulsion motors
300 ekW
Current
480 v/60 hz
Main propellors
2 x 1850kW Fixed Pitch Propeller(5-blade) contra rotating
Bow thruster unit
1 x 135kW Fixed Pitch Propeller
Emergency / harbour power set
1 x 99 ekW

SEATING / ACCOMMODATION
Fully air-conditioned & purified / standard suitable for warm climates.
Seating area

Seats for 100p
comfortable (reciclining) seats
Separate luggage area 12.5 meter
Onboard entertainment system

Accommodation for 8 persons

2 men cabins, separate well cells
Separate mess / day room
Large provision store
Cooking station with fridge and freezer
Navigation bridge with 360 degree view

CARGO / DECK CAPACITY
Max. 200 ton deck-load
Total deck area
230 m2
Reardeck
190 m2
Deckdesign
1.5 Ton / m2
Wood covering
Fore deck area
40 m2
Fuel oil capacity
40 m3
Fresh weater capacity
5 m3
Below deck storage
Cargo tanks (optional)

NAVIGATION EQUIPMENT
Equipment

Magnetic compass
2 x radar (x-band)4 ft scanners
Navtex
Echosounder
Doppler log
2 Gyro repeaters on various positions
Day signaling lamp
Air wistle with command
A.I.S

VARIOUS

Passenger access from both sides.
Foreship mooring / anchor winch with warping head, chains and anchors, bollards aftship.
Tank gauging and monitoring system with printouts.
Life rafts: 6 life rafts, each 20 persons.
* Las especificaciones enlistadas en esta hoja de datos, están sujetas a cambios sin previo aviso y no deben ser usadas para propósitos contractuales.